a
b

out us

Dew Yoga is committed to providing high quality Yoga instruction and enrichment programs,  making it accessible to all ends of the human spectrum. Please see the Outreach page to learn how we make this possible.

Our collective foundation is Kripalu Yoga, the Yoga of Compassion. We embrace and offer teaching from a wide variety of lineages. Our teachers besides being highly trained, certified and insured are each loving, sensitive and inspiring individuals. The collective of Dew Yoga instructors have experience with specialties such as; therapeutic yoga designed for cancer and heart disease patients and survivors, athletics, healing arts, children, prenatal Yoga, stress reduction and more. Read the teacher bios on the Teachers page.

We maintain connections with local community service providers to extend Yoga to under served communities. Read about our Projects and the organizations we support.

Dew Yoga is empowered by it's community and every student is treated with honor, respect and love. We recognize that each Yogi that enters our shared space is as unique, integral and vital as the whole of our community. Every drop in the ocean matters and so do you.
Why the name, Dew Yoga?
The world awakens each day from its nightly slumber, transformed by a sparkling layer of morning dew. These glistening droplets last only a short while, an integral part of what imbues the early morning aura of magic. Through the practice of Yoga we can embody transformations as vast and varying as water. From a drop of dew, a rushing river to a vast ocean we are all as powerful and gentle in our transformations as each drop in the ocean.
t
o

day's classes
9:30am - 10:45am
Moderate/Vigorous Kripalu with Jen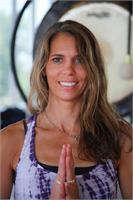 For students with experience and knowledge of basic postures, breath and meditation. This class flows through basic breath and postures and introduces advanced postures and breath techniques. It includes Yoga philosophy and chanting.

4:00pm - 5:15pm
Moderate Vinyasa with Christine
A moderately paced flowing yoga class with instruction and options for more experienced students.

c
o

ming up
Forty-five minutes to melt away the work week and recharge you for the weekend. The guided deep relaxation is open to everyone.
Let Your Yoga Dance is a playful, joyful movement practice that dances through the 7 chakras, the energy centers of the body. We move to the rhythm and beat of the music as it speaks to the soul to free your spirit, get out of your head and into your heart. It is an organized "rumpus." It is healing through joy! The result? A blissful body, joyous heart and a steady, quiet mind. Join us for a joyous, playful, funky-fun adventure using fabulous user-friendly world music in a safe and compassionate environment. It is a total conditioning of the body, heart and soul. Feel invigorated and rejuvenated and blissful at the end of class. Let Your Yoga Dance is for all age and fitness levels. No prior yoga or dance experience is necessary; all levels are welcome because everyone is a dancer! Dress for comfort and ease, bare feet are recommended. Bring a water bottle and bring your inner child to come play and dance.
Join Jen and Connie for 90 minutes of partner poses. Use the weight of each other's body for traction, leverage, and balance as you revisit your favorite poses, partner style. $30/person. Must bring your own partner.
---
---
---